I own way too many backpacks, day packs and carry bags. All for different uses and varied sizes. While scrolling through the Facebook feed, a Facebook Ad popped up for Earth Pak. Showcasing their waterproof bags. * The one thing I notice with these Facebook Ads, you get a lot of garbage, cheap products, overpriced products and scams. I sometimes click on these ads just to see if I'm correct.
Spoiler Alert – I bought the 35L Black Earthpak – Summit Dry Bag Backpack and I LOVE it!
Earth Pak – Summit Dry Bag Backpack Price
Earth Pak – Summit Dry Bag looked good. I was expecting this product to be around the $150 – $200 mark since it was waterproof and the design looked incredible. I clicked the Facebook Ad, and I was presently surprised the bag only cost $60.00 USD. That's great! Hang on what about shipping? This could be a hidden cost. So I added it to cart just to see what the Summit Dry Bag Backpack price from Earthpak would be. Free Shipping to Australia – Bonus! Even better deal. So far this deal has ticked all the boxes for me.
Love Travel? I bought the 35L Earthpak Summit Dry Bag
I travel a lot! I'm a hiker, love the adventure and with my commercial drone business, I need to keep all my camera, drones and computer equipment safe and dry. The bag also needs to be comfortable on my back for long days and hours on my back.
So I checked out some specs, reviews and videos before I bought the backpack and these are some of my favourite points after a few uses of this bag:
Lots of anchor points so I can connect it to other accessories. (GPS, EPIRB, Tie to Kayak, Knife).
Good back support, comfortable on long walks
The 35L Earthpak backpack is perfect for short day trips
The fabric is thick and helps with scratches from scrub and trees
Like a normal dry bag, you have one big opening at the top, no zipper, just roll and clip-on.
Pockets inside is very useful for storage of small loose items. Since the pockets inside, they are waterproof.
The pocket outside is not waterproof (Splash proof only), so I hardly place anything in them. Although when travelling on a plane, this is a great spot for travel documents and quick access to your phone.
For night hiking or cycling a reflective strip at the back for added visibility
The entire main compartment is waterproof, nothing is getting wet inside.
My new adventure backpack – Earth Pak
I'm now glad I found that Facebook Ad. Overall I'm extremely happy with the bag and multitude of uses for it. I'll still be using my Osprey Atmos AG 65L for long-distance and overnight hiking. My Osprey Escapist 30L which I haven't reviewed yet, I will also keep for hiking related adventures.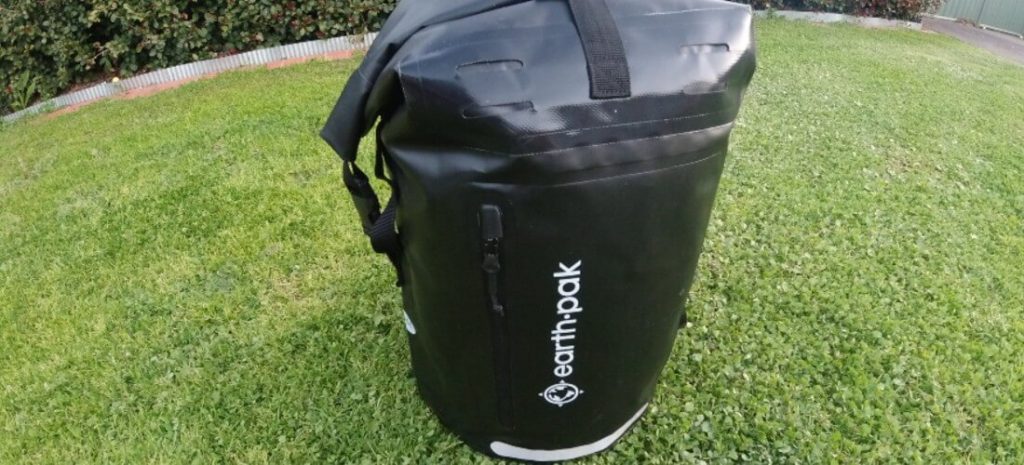 However, for short day trips where I want my gear protected from the elements, drone jobs where I need to travel inland or over water, kayak and fishing trips, the Eathpak Summit Dry Bag will be my new adventure backpack. Visit the hiking gear list page to see my full list of adventure gear I use and recommend.
If you require more information, please get in contact with me.